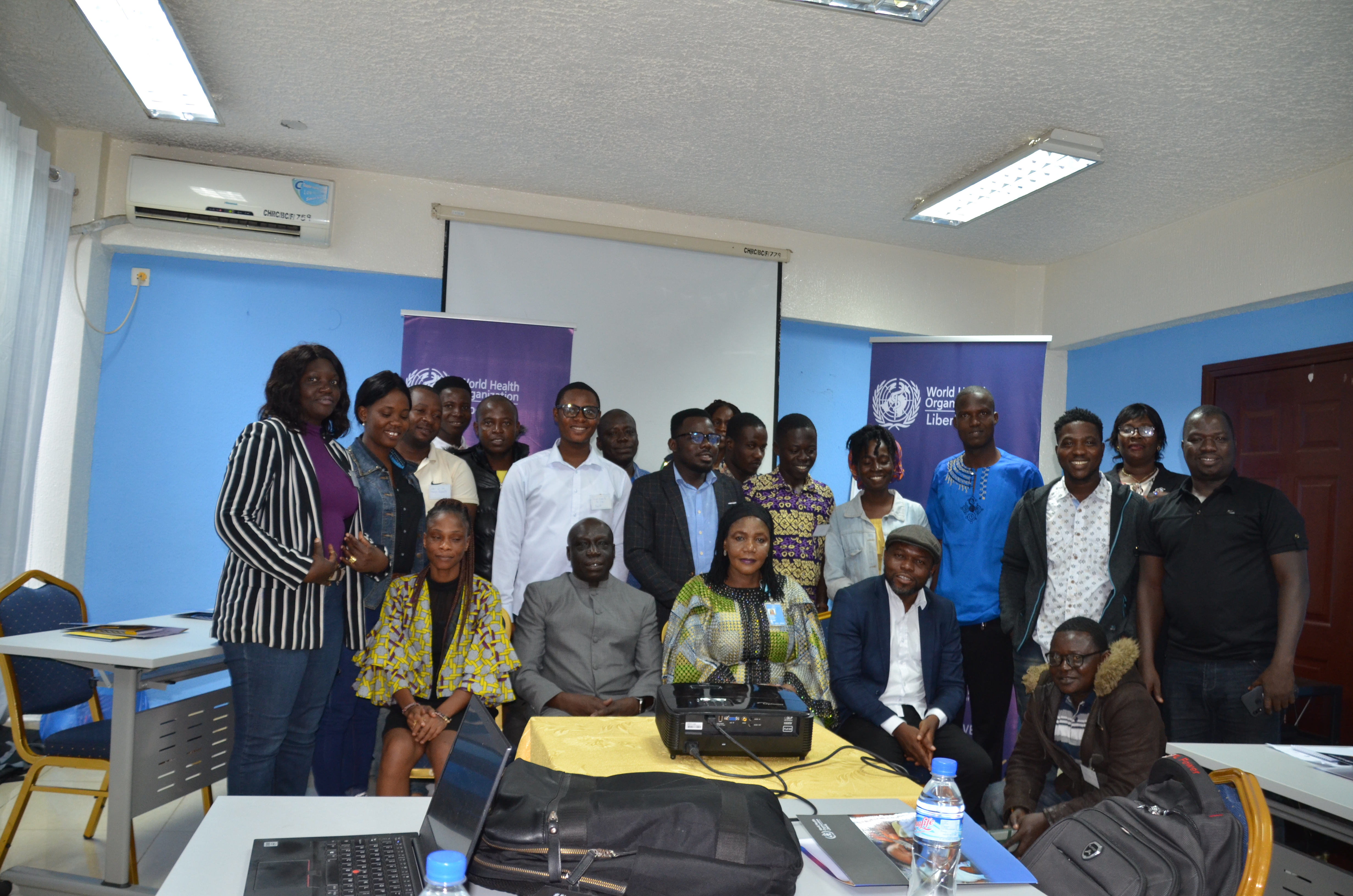 14 September 2022, Monrovia:  The surge of pandemics such as COVID-19 has underscored the importance of ensuring evidence-based reporting by the media. Throughout the pandemic, the media fraternity has and continues to play an integral role in ensuring the public gets correct information that helps inform decisions at all levels.  The Press Union in Liberia, in collaboration with the Ministry of Health and WHO, has instituted a Health Reporters Network.
The daylong session brought together over 30 journalists from various media outlets, with an aim of enhancing collaboration and deliberations on the best ways to promote trust among the general public by ensuring that the content shared is based on facts. The guest of honor at the event, Dr. Peter Clement, WHO Country Representative in Liberia, emphasized that the media have the power to shape the global agenda.
"When I came into this country on the 16th of March, 2020, that was the time Liberia recorded its first COVID-19 case. I recall that with the Press Union of Liberia we did discuss ways of improving health reporting, but the discussion was short-lived because of the pandemic—things became tough. We have progressed collectively as a community and learned the power of the media in shaping global agendas and promoting service delivery", said Dr Clement.
He further added that, learning from his experience during Ebola, false and negative news spreads faster than factual news, hence the need to ensure news is shared in a timely manner and based on facts so as to curb misinformation and misconception.
"If people don't get the correct information on time, we create a vacuum that will be filled with false information. So you are a great asset to any work in this country, not only in health but also on issues of women, youth, agriculture etc. If COVID-19 has taught us anything, it is that health is the foundation of all development and prosperity. Health in Liberia is a precious element that we all need to champion," narrated Dr. Clement.
In concluding his statement, Dr. Clement pledged the organization's commitment to the cause of championing the health agenda and ensuring the right information is shared through existing opportunities in radio, online, and print media.
The Vice President of the Press Union of Liberia, Mr. Daniel Nyakonah, applauded WHO for supporting the Union to launch this important forum and added that the network will be key in ensuring fact-based news on issues of health in Liberia.
The participants were taken through various topics, including an elaboration of their roles in health reporting and a detailed understanding of key issues of concern on monkeypox and COVID-19 in Liberia.
WHO continues to support the Ministry of Health as an advisor on health in efforts to attain health for all in Liberia.